Songwriting In Schools
An unforgettable, creative, child-led learning journey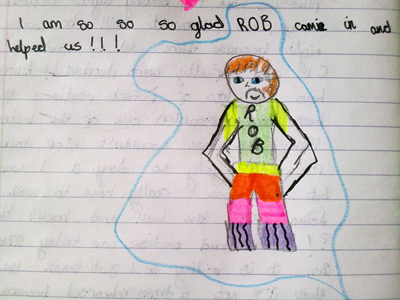 I work in primary schools writing and recording original songs with the children. They don't need any musical training or experience and neither do the teachers. I explain the structure of popular songs, demystifying the songwriter's craft and giving the children the tools they need to write their own songs. I take the role of facilitator, guiding the children's ideas, ready to help at any time but keeping the children at the centre of the creative process.
Workshops range from short introductory sessions to whole day writing projects and beyond. Everything can be recorded with my portable studio equipment, and a CD can be produced with the children's own artwork.
I have a current, clear DBS certificate, public liabilty insurance for £5 million, and glowing references from the parents and teachers of children I've worked with.
You can hear some examples of the songs children have written in my workshops here.
My name is Rob Bray and you can call me on 07747 752359.
Related pages:
Songwriting in Schools - examples
Songwriting in Schools - testimonials
What skills are strengthened by songwriting in schools?
Literacy: vocabulary, nuances of meaning, rhyme.
Numeracy: rhythm, repetition, form and structure.
ICT: using professional recording equipment.
Music: insights into how music is made, plus the chance to play, sing, perform and record.
Drama: actions can be added to a performance of the song.
Personal key skills: turn-taking, confidence, acceptance of the rejection of an idea if a better one is suggested by another child, the self-discipline of keeping quiet when we're recording.
And of course, the children's knowledge of the subject they're writing about is deepened, and is far more likely to be remembered!

See 'Why use songwriting in schools' for a fuller explanation of the many values of this learning method.